Agnese Zalcmane (28).
A very energetic young lady with huge interest about other lands and cultures. She is hunting solar eclipses for many years and is the main organizer of these events. She also know very well the dark side of the sky (where the cookies are :)). Sit with her for a night under clear sky and you will hear tall tales of legends written in the stars. Go to another land with her and you will find out lots of interesting local culture, customs and habits right from the indigenous people.
Always responsive, always interested and very curious. Most excellent planner of all sorts of things. As an acquaintance once put it – being everywhere at once. Agnese is also very persistent – if something fits to her liking, it sticks for a long time. That could be the passion for stars, or dancing, or even old UAZ cars, but she is always ready for a new challenge, especially if there are no better plans at that moment.
Anders Sköld (36).
Anders doesn't talk too much and may at first seem ordinary, but he isn't. There are some peculiar complexities about him, like actually being very quickwitted and yet display a fascinating ability to fluctuate in opinion and resolution. It's hard to make Anders upset or angry, but a few things can make him somewhat disturbed, for example wet bamboo and misinformation (Anders like the feeling of being sure of things, and most often is…). He has a curious mind with a good memory for details and doesn't worry to much, this may be reasons for his interest for backpacking.
As a traveler, Anders is calm and professional, an excellent reader of maps, handbooks etc. As a hiker, Anders is persistent and good humored. Although sometimes at a slow pace, he always manages to keep up.
As an every day life-fellow, he like things like watching football (also the american kind) with a beer, playing discgolf, listening to all kinds of music and surfing the web.
Emīls Veide (22).
A guy with a bright head and intelligent thinking. Likes to sing, dance salsa, observe stars and talk about different things in life. It is easy to get on with Emils. He is interested in everything that is worth talking about. With pleasure takes part in many activities, he is open to do even crazy things. At the same time he takes responsibility for what he does, he knows how to weigh priorities and make decisions in important situations.
Emils pursues astronomy for many years, he always tries to do the best in interesting others in several astronomical activities. Observing sky full of stars is a very romantic thing.
Emils works at Riga State gymnasium No. 1 and teaches astronomy, he gives private lessons in math as well. This is the second year he leads
Astronomy classes in "Tehniskās jaunrades nams ANNAS 2"
where young people can come and learn astronomy in different levels, learn how to make astronomical observations, know constellations and orientate oneself in the dark skies.
This trip to Australia is like a scientific expedition for Emils. His goals are to observe the full Solar eclipse, observe southern hemisphere constellations and witness Sun's position directly above the head.
Evija Čerpinska (34).
Evija likes colours, especially the green and the orange; she also likes flowers in a vase, to ride a bike and to be with her family.
Mostly Evija has her own opinion, she knows how to support that, reason and convince, and to separate important things from unimportant. Evija is a brisk provocateur, very purposeful and curious person who does her tasks in time and well. She has a big capacity for work, energy, insistence, commitment, curiosity, helpfulness. But she can be also abusive and ironic without reason especially to the closest friends.
Evija is ready to help to get to the aim quicker. She doesn't tell out loud about her anger and dissatisfaction: the fact that she's smiling doesn't always mean "I'm happy" – sometimes she is smiling also when "I'm angry".
And besides, quality is not always in quantity!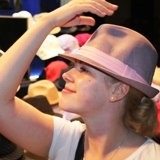 Guna Dirveika (28).
Guna is always positive, kind and intelligent sort of person with steely nerves and sometimes unusual logics. Apart from her day job as a lawyer, she has unstoppable thirst for new information especially if it concerns nature, medicine or new cultures. She loves to travel and gather new impressions best captured by her photo-lens. It is very important that people around her are happy, if not, Guna tries to change the situation for the best.
Guna is goal-oriented, she will follow it through disregarding any difficulties or obstacles, meanwhile trying to make the process as fun and chill-out style as possible, because, if you have to do something, why not enjoy doing it. Guna's mantra in trouble is – there is no point in stressing out, there are thousands of people around the world who have it much worse, humanity is very resilient in that way.
Gunta Zalcmane (70).
Woman in her best age and a very active one. She loves traveling. Now when she doesn't need to work anymore, she can do it many times a year. But lingering on a beach in a resort whole day long is not for her – she would feel it as time wasted. She needs to be doing something all the time, be it sightseeing while on a trip or gardening, going to concerts and picking berries in forest while home. She likes to watch soaps and is also the most passionate football fan in the family (or rather – the only football fan in the family) when European or world championship is going on (without beer ;).
Ilgonis Vilks (51).
First passion – astronomy, second one – science communication. Can easily explain difficult conceptions and vice versa. A writer who writes not fiction but textbooks. If not travelling abroad, travels around home country. Can be often found with book or camera in his hand. Loves nice food and cooking! Magazine "Patiesā dzīve" (True Life) names him along well known and sometimes controversial local scientists Janis Stradins and Andris Buikis. What may this mean?
Rūdolfs Druva (26).
A boy, who has not yet left his childhood behind, but sometimes gets serious. He loves life and helping others. Rūdolfs is hearing impaired so he often asks to repeat to verify the meaning. He likes to play all sorts of board / mind games and also enjoys
GeoCaching
– real-world outdoor treasure hunt. Besides that he cycles a lot and climbs walls and does variety of other activities. Rūdolfs does not have a tedious lifestyle, he tries out a lot of new things and participates in various trips both in local and global scale.